SUV design is getting bigger and more aggressive. What does this new era of dystopian design say about us?
In the past few years, carmakers seem determined to turn us into Mad Max warriors with specialty vehicles that make oversize cars like the Humvee look like Matchbox cars for tiny teddy bears. But even standard SUVs (Sport Utility Vehicles), once considered larger versions of a regular passenger car, have started to go off the rails with design features that make them look like they're about to drive into an apocalyptic quarantine zone.
Almost every automobile manufacturer on the planet makes SUVs. They come in all styles and sizes, from small, friendly crossovers to large, truck-based models. They offer more space, a higher driving position, and often a more rugged styling, which make them feel more comfortable and safer than traditional cars. And people seem to love that.
SUVs are currently the most popular car type by far: Global data shows that the SUV market grew 133% over the past decade, going from 15 million units in 2010 to over 35 million units in 2020. It's the best-selling and fastest growing category in the industry, reaching a 53.5% share of all types sold in 2022 in the United States. Analysts believe that SUVs will continue to lead the industry, with sales projected to go from $885.8 billion in 2022 to $1,221.7 billion by 2027.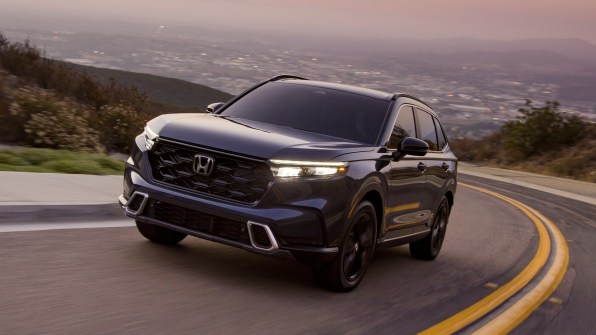 The market growth has been matched by some serious physical growth, too. According to the 38th edition of the Transportation Energy Data Book published in 2021 by the US Department of Energy, the average weight of SUVs in the United States increased by 28% from 1990 to 2017. The overall dimensions have gone nuts, too.
Take the humble compact crossover SUV Honda CR-V (2023 model pictured above with its zombie-killing grille). In 1997, it was 176.3 inches long and 68.7 inches wide. In 2019, it grew to 180.6 inches long and 73 inches wide. Larger models have also gotten much bigger. The 2023 BMW X7—the Bavarian company's largest combustion engine SUV and one of the largest SUVs, period—is around 10 inches longer, 1.5 inches wider, and 2 inches taller than its predecessor, the X5.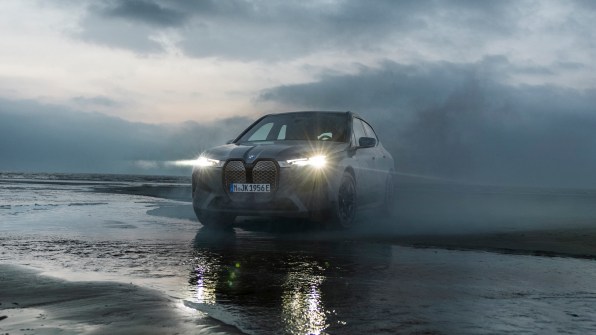 The new electric BMW iX (above) is slightly smaller than the X7, but it looks just as aggressive, with the hard front lines and air intakes. And the Hitler mustache grille doesn't help to soften its appearance. The BMW XM below (a concept car that will guide the future design of the German company's SUVs) looks ever more threatening, like a futuristic version of a Panzer tank.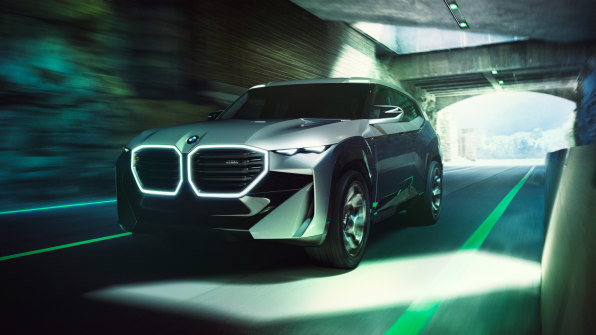 Still, the BMW iX concept looks like Ken and Barbie's Beach Cruiser compared to some of the SUVs that have been making the rounds lately. Take the Rezvani Vengeance, an automobile that appears to have driven straight out of a Robocop film. With its hard lines and volumes, giant door panels, and tiny windows, it truly looks like the car that you need to survive a global thermonuclear war. Heck, if I were a Russian oligarch, I would be living 24/7 inside this beast.
The Vengeance doesn't only look the part; it is a true end-of-times machine thanks to its "optional military package," which includes bulletproof glass and over 20 security features like underside explosive protection, electromagnetic pulse shielding, smoke screen system, thermal night vision system, and even electrified door handles to shock potential car hijackers and pepper spray guns. The car, however, is not a military car. It's made to order for civilian use, which is what makes it so atrocious.
Starting at $250,000, it's not for everyone. As Jordan Golson—the transportation reporter for the blog Inverse—tells me: "It's a car for rich dudes. Really rich dudes who collect cars."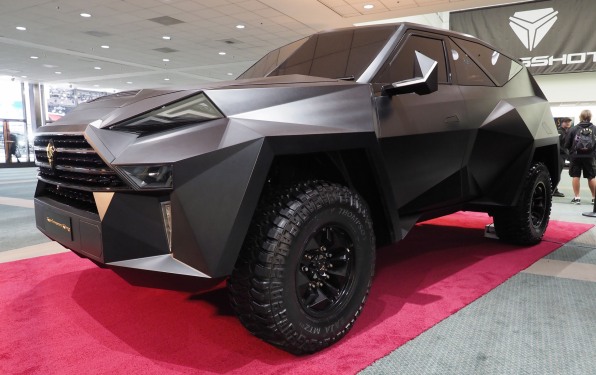 The Karlmann King and the Munro MK-1, two other beastly SUVs, are also great examples of this ridiculously bellicose design trend. The Karlmann looks like a fighter jet with sharp angles designed to lend an aerodynamic appearance to the hulking automobile. The fully-electric Munro MK-1 feels like a Soviet Union tank for eco-warriors. And, like the Vengeance, they both look ready to star in the next Jerry Bruckheimer movie.
But while those three cars cater to rich survivalists, they are just the sublimation of the aggressive design that has taken over the SUV industry. Look a little harder, and you'll start to see it everywhere. The aforementioned BMW X7 and iX, sure. But also the Genesis GV80, the Toyota Sequoia (pictured below) and 4runner, the GMC Yukon AT4, the Rivian R1S, or the Hummer EV, all feel like cars designed to run over zombies.
And let's not forget about Tesla's Cybertruck. It may be a pickup, but it looks like the epitome of the cyberpunk car apocalypse: giant fronts, oversize grilles, and huge door panels that look like fortress walls crowned by tiny windows.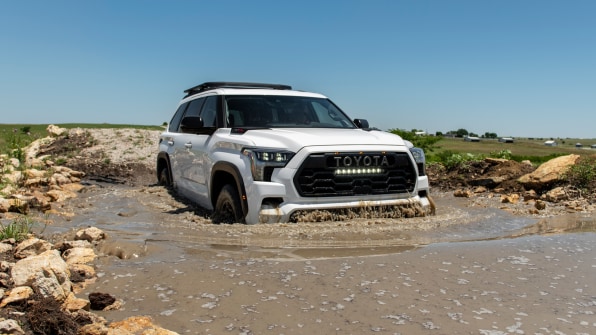 The original Hummer—a street-legal version of the military Humvee—has always had an aggressive design, but it's only recently that other automakers have started to adopt this design language. A decade ago, SUVs looked like taller, oversize versions of regular cars, like the 2009 Kia Borrego (even its name is friendly: It means sheep in Spanish). Vehicles like the Range Rover—which evolved from the large all-terrain Land Rover that you would take to see lions and elephants in an African safari—looked soft and friendly.
Obviously, there's a practicality aspect to why automakers are desiging bigger, more menacing SUVs. "I think this is happening because people like to feel safe," says Adrian Clarke, a professional car designer who now writes design critiques for the automobile publication The Autopian. "There's a lot to be packaged these days, and people like to sit up high."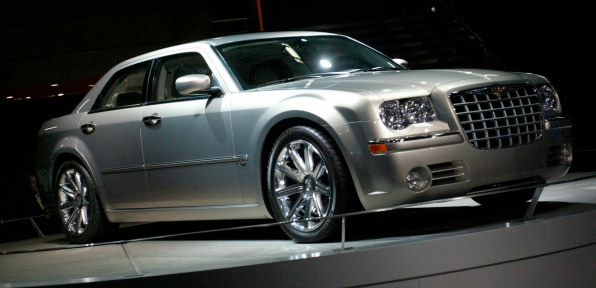 Golson seems to agree. These may seem huge and intimidating for someone living in Brooklyn, but next to a semi on the interstate, they look pretty normal. People who buy may be thinking "Oh I'm totally safe now! I'm cocooned off from the world." Golson believes that while it is kind of a simplification, "It's fair to draw conclusions [about feeling safer] in a post-Covid." He thinks that perhaps this trend started post 9/11, when Chrysler came out with a version of the Chrysler 300 sedan, which used smaller windows and felt like a fortress. That car was a hit, he recalls.
It seems that fear really works as a design language, and it's been working for a long time. Cars are a symbol of individual expression, but they are also a reflection of culture more broadly. Just think about the utilitarianism of the original Ford Model T at the beginning of the 20th century or the futuristic optimism of space-age design in the 1950s. Today, dystopian design is having a moment. It's a mindset where cars can become survivalist cocoons to save us from the next disaster—real or perceived. The next pandemic, nuclear armageddon, or the fungi apocalypse, the SUV will save us all.
Sponsored Content
FROM OUR PARTNERS