Meet the Ikea researchers exploring generative AI for furniture design. Your Billy shelf may never look the same again.
Artificial intelligence has shown itself to be really good at writing essays, generating artwork, and even composing music. But are algorithms capable of designing a new Ikea chair?
That's a question the Ikea-funded Swedish design agency Space10 has been exploring on behalf of the furniture giant. Space10 recently began a series of experiments on creativity in the Age of AI, which included training AI models on photos taken from decades-old Ikea catalogs.
The resulting AI-generated images not only look like they would be right at home on Ikea's show floors, but they're also teaching Space10's staff how machine learning could become a useful tool for any designer, whether they're working on a personal passion project or the next Billy shelf.

RETRO-FUTURISTIC AI DESIGN
Space10 recently collaborated with video journalist Joss Fong and designer Áron Filkey to explore the potential of using generative AI for design. Instead of just starting from scratch with a publicly available generative AI model, the duo trained the Stable Diffusion image-generation model on Ikea catalogs from the 1970s and 1980s. "That really showcased the potential use of training data," says Space10's Alexandra Zenner.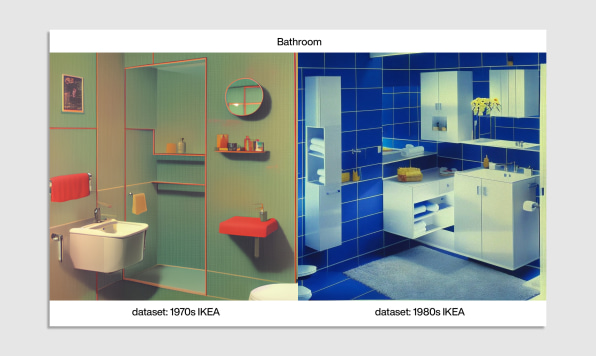 Images generated with these two distinct data sets reflect the general aesthetic of those time periods. AI-generated furniture designs inspired by 1970s Ikea catalogs are colorful, with lots of rounded corners and a general playfulness, while the 1980s catalogs led to a more minimal design with clean lines and 90-degree angles. At the same time, the resulting images still have an Ikea-like quality to them, which includes the use of natural woods and an embrace of smaller spaces.
Ikea CBF innovation manager Sebastian Welter believes that these AI-generated designs could foreshadow a democratization of the design process. "Rather than only allowing designers to imagine new forms, anyone who will at one point be part of design projects can now join the process from the beginning," he says. "It immediately invites many more people into the concept phase."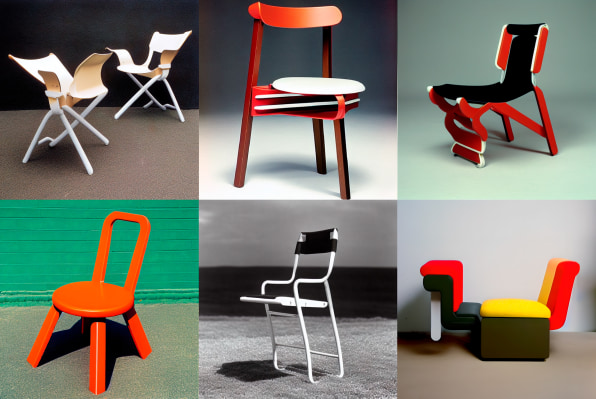 AI LOVES THREE-LEGGED STOOLS
To further illustrate the potential of AI in the design process, Space10, Fong, and Filkey also made a short film about creativity in the Age of AI. The film makes clever use of generative AI for image creation, scripting, and even voice-over, causing the viewer to question the role of human creativity in the design process altogether.
However, a closer look at the AI-designed Ikea furniture also shows some of the shortcomings of generative AI to date. Images of existing furniture can teach algorithms a lot about basic design concepts, but not necessarily the laws of nature. A number of the AI-designed chairs, in particular, look great but impractical, if not downright dangerous. Some are missing legs, while others don't have a secure center of gravity, which inevitably would result in people falling over as soon as they sit down.
Generative AI makes it easy for anyone to come up with new visual ideas, but fine-tuning queries and then refining the resulting ideas still requires expertise, says Space10's Ryan Sherman. "You need the knowledge of a designer to curate and create these concepts."
At this point, AI seems best suited as a partner for early brainstorming sessions rather than as a replacement for designers, argues Zenner. "I'm viewing AI right now as more of a collaborator," she says. "Something to augment our own creativity versus necessarily something that's going to eradicate it or change it entirely."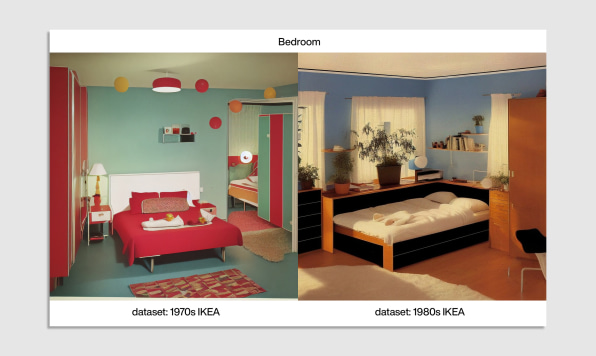 At the same time, generative AI could lead to designers move more into the role of art directors. "Designers can definitely take on more of a curatorial role when it comes to these platforms," Zenner says. This includes filtering out those unsafe three-legged stools, but also crafting the right queries and continually refining the training data to make sure an AI doesn't get stuck reinventing the same kind of furniture over and over again.
"Data sets need to be constantly trained and untrained," Zenner says. "That curatorial role is going to be vastly important (to ensure) that you aren't just getting stuck and pigeonholed into one idea or concept."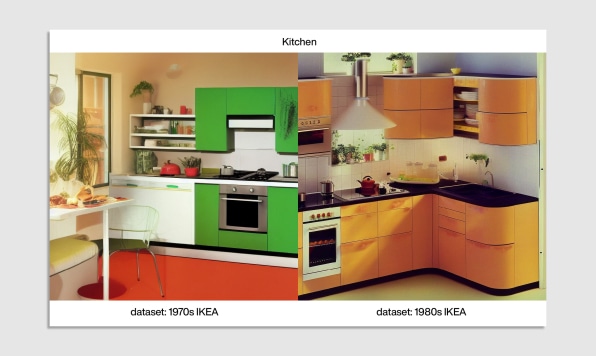 NOT JUST AESTHETICS, BUT ALSO ETHICS
Ikea has been using Space10 for several years as an outside research and design partner to explore such cutting-edge technologies as AI, augmented reality, and Web3. "The way Space10 is set up is to imagine what the Ikea of tomorrow could look like," explains Sherman.
This complements Ikea's own internal efforts, which already include the use of AI for automation, among other things. "We are exploring the use of more AI across the entire value chain," Welter says. As part of that process, the company has also established an internal data ethics team, which is meant to ensure what Welter calls "a fair, responsible, and transparent approach to AI."
Space10, for its part, wants to keep exploring the possibilities of AI, including for architecture and the design of 3D spaces. The agency is looking to launch an AI design competition soon and has further AI experiments planned for the near future.
"The space is moving incredibly fast," says Zenner. "We're constantly learning. The AI is learning, and we're learning about the AI. It's (a) mutual relationship."
Sponsored Content
FROM OUR PARTNERS