With 'big and tall' sections offering bigger men scant options, emerging brands are focused on inclusive solutions.
Like most larger men, Bruce Sturgell has spent a good portion of his life wearing some variation on ill-fitting khakis and tentlike polo shirts. "It's the fat-guy uniform," says Sturgell, founder of Chubstr, a fashion blog for plus-size men. "I hate it so much."
Sturgell, who has a 46-inch waist, has struggled since his teens to find stylish clothes that fit. Many menswear brands don't go beyond a 40-inch waist, even though the average American man measures 40.5 inches around, according to data from the Centers for Disease Control and Prevention (CDC).
Since Sturgell launched Chubstr 12 years ago, men's fashion has become a little more inclusive, he says: Brands like Nike and Target's private label Goodfellow & Co. now offer shirts up to 5X and pant sizes up to 42 or 4XL, and use bigger models in their ads. Meanwhile, online brands with names like Johnny Bigg have cropped up, offering more on-trend styles and elevated looks. But, still, the pickings are slim. Plus-size menswear makes up an estimated 12% of the U.S. men's apparel market, and is just a fraction—0.6%—of the global plus-size clothing market.
Part of the problem is practical. It's simply more expensive to make plus-size clothes that fit well. Over the past decade, pioneering women's brands like Universal Standard—followed by others—have made investments, enabling them to increase garment sizes without sacrificing quality. Plus-size women's apparel sales total more than $6.8 billion in the U.S., with brands from Old Navy to Christian Siriano offering extended size ranges. Many men's brands, however, haven't made such investments. What's standing in their way, to some degree, are the customers themselves; cultural forces make it hard for men to tell brands what they need, obscuring the demand. But a growing number of plus-size men are starting to speak up by launching their own brands.
---
Plus-size women had to compel the fashion industry to take them seriously. Glossy magazines had long glamorized unrealistically skinny models, and women's wear brands refused to go past a size 12, even as the average woman became a size 14. A decade ago, curvy influencers like Gabi Fresh and Nicolette Mason helped kick-start the size-inclusivity movement, posting photo shoots of themselves in fashion-forward outfits, garnering enormous followings. This empowered women to demand that brands make their sizes—and over time, many complied. There hasn't, however, been a similar outcry from male consumers. "It's fascinating that men are so comfortable advocating for themselves in so many aspects of life, but not here," says Nadia Boujarwah, cofounder and CEO of Dia&Co, a plus-size women's wear startup.
Zach Miko, who was the first plus-size male model signed by modeling agency IMG, in 2016, blames "toxic masculinity" for that silence. "A faction of dudes think it is not manly to care about how you dress," he says.
It doesn't help that brands offering plus sizes often fumble the marketing. Jody Koenig, who, along with Sturgell, hosts Heavy Conversation—a podcast about the issues plus-size men face—says brands with big-and-tall lines don't advertise them well, and when they do, "they're not showcasing them on bodies larger than a 3XL," he says, which sends the signal that "they don't think that bigger bodies can be aspirational." As a result, even after debuting plus-size lines for men, players like Express and Bonobos have quietly scuttled or downsized them in recent years, citing low demand.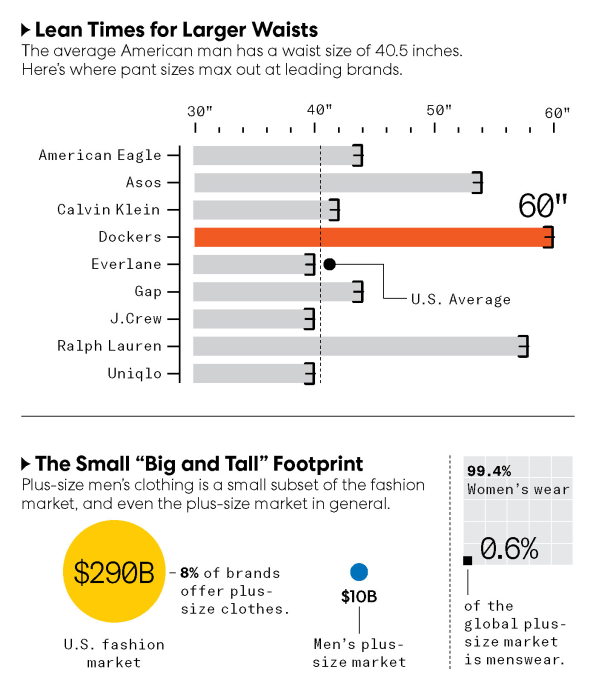 Some men have simply given up waiting for mainstream brands to create clothing lines that take different size needs into account and launched their own instead. After a lifetime of dealing with briefs that chafed, Koenig launched Bear Skn, an underwear brand that goes from S to 6XL and spotlights models across this range. Last year, Miko partnered with online retailer King Size to launch a plus-size men's swimwear brand called Meekos that goes to 9XL. Most recently, chef and actor Matty Matheson debuted a minimalist workwear line called Rosa Rugosa with a waist-size range of 28 to 52, and shirts that go from small to 4XL.
As these entrepreneurs have discovered, creating a new plus-size line is a time-consuming technical feat. Traditionally, men's brands have created patterns based on a medium-size fit model, then scaled garments up and down proportionately. But when you get into plus sizes, this can create distortions, like trousers that are seven feet long. "Making larger sizes doesn't actually cost much more from a fabric perspective, but you have to create new patterns for each size," Matheson says.
In addition, many mainstream apparel factories lack machinery that can cut and sew large sizes. Initially, Matheson struggled to find a manufacturer with hardware capable of making a broad range of sizes. When the workshop he found unexpectedly closed due to the pandemic, Matheson and his partners bought its equipment and hired people who could create clothes in the brand's size range. "Now, we have complete control over our production," he says. "We're figuring out how to go even bigger."
Though the wave of men's plus-size startups is small, it could signal a wider shift driven by different attitudes among younger men. Miko says the next generation of plus-size men seem more comfortable with talking about their needs. "As younger plus-size guys come into their own, they're demanding more from fashion," he says. "The industry isn't going to be able to ignore them much longer."
Sponsored Content
FROM OUR PARTNERS