For the first time, people with profound hearing loss can directly connect their cochlear implants to their Fire TV devices.
Whether trying to catch up on The Last of Us, binge the Oscar contenders, or gear up for the NBA playoffs, many people with serious hearing loss aren't able to get the full experience.
To help remedy that, Amazon is launching an application that will allow, for the first time, a streaming device to connect directly to a cochlear implant. Wearers will be able to more comfortably access the content of Fire TV, the tech giant's streaming device, which doesn't just include Amazon services, but also apps like HBO Max, Netflix, and Hulu. The company is partnering with Australian company Cochlear, one of the biggest makers of cochlear implants.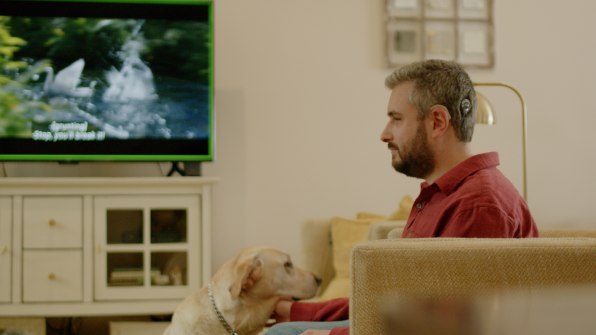 Distinct from hearing aids, cochlear implants are for people with more profound deafness or hardness of hearing, where amplifying the volume alone won't work. These devices, which have an exterior portion and a portion that's surgically implanted into the inner ear, detect signals and then bypass the damaged parts of the ear and deliver the signals to the auditory nerve and the brain, which interpret them as sounds.
The sounds generated by the implants can be difficult to adjust to at first. (This struggle is portrayed in the movie, Sound of Metal, whose rock drummer protagonist begins wearing one.) "Customers who use cochlear implants have to relearn what sounds are," says Peter Korn, Amazon's director of accessibility for devices. "Things don't sound quite like they used to. And it's especially problematic when it comes to things like TV."
When sound emerges from the TV speaker, it bounces around the room, echoes off the wall, and is absorbed by furniture. Once it gets to the ear of a person with an implant, the sound is no longer clear. Some people just avoid watching television altogether.
But with the new connection, via Bluetooth, sound bypasses the TV speaker and goes straight to the tiny microphone of the cochlear implant, producing a "dramatically cleaner, clearer signal," Korn says.
About 183,000 people in the U.S. and 737,000 worldwide use cochlear implants. Many more use hearing aids, which essentially amplify sounds.
Last year, Amazon worked with hearing aid company Starkey to provide the same service to people who use hearing aids. The new iteration uses the same concept, and the same open-source tech protocol, known as ASHA (Audio Streaming for Hearing Aids), originally designed for hearing aids.
Importantly, this direct connection means people won't need to buy devices called streamers. These act as an intermediary between TVs and hearing aids and implants, such as Cochlear's wireless streamer, but which can cost more than $200. Those extra expenses are often viewed as an unfair "disability tax," Korn says, as people with disabilities have to pay to access the same services as others.
Starting Wednesday, people who have a Fire TV Cube or compatible smart TV and a Cochlear implant can start using the tech (though, Fire TV Sticks will not work with the tech). It will work for all available content on Fire TV. "We worked with all of the marquee streaming media companies to validate this," Korn says.