The latest Kindle looks beyond mere content consumption, with mixed results.
The Kindle Scribe is unlike any other device Amazon has built before.
Whereas the company's Fire tablets, Echo speakers, Fire TV streamers, and Kindle e-readers are primarily vessels for content consumption, the Kindle Scribe caters to more productive pursuits. With a 10.2-inch e-ink display and included stylus, it's meant to replace pen and paper for taking notes and marking up documents.
But while Amazon largely nailed the hardware—writing on the Scribe feels better than any iPad or stylus-equipped Android tablet—its inexperience on the content creation front comes through in the software. As of now, the Kindle Scribe's writing and note-taking features feel too rudimentary, making the $340-and-up asking price tough to justify.
WHAT THE KINDLE SCRIBE DOES
The Kindle Scribe is the largest e-reader Amazon has ever made, surpassing even the discontinued Kindle DX from 2009. While the 10.2-inch, 300 pixel-per-inch display is still smaller than a piece of paper, compared with other Kindles it's more conducive to reading PDF documents or magazines; for regular Kindle e-books, it can accommodate larger fonts without feeling overly cramped.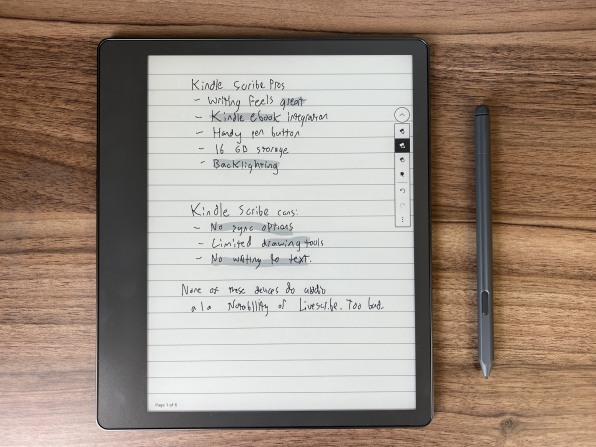 The Scribe's main selling point, however, is users' ability to write on the device. Amazon includes a basic pen in the $340 package, while an extra $30 gets you a Premium Pen with a programmable side button and an eraser function at the top. (Amazon sent over the latter for review.) Both clip magnetically to the Scribe's right side when held in portrait mode.
What can you do with the pen? A few things:
Take notes on e-books: Expanding on the existing notes feature for Kindle books, you can take handwritten notes in addition to typed ones, though the writing doesn't appear directly on the book's pages. Instead, it hides behind a little note icon, which you can tap to pop open a sticky note.
Annotate PDFs: With Amazon's Send to Kindle feature, you can send yourself PDF files to work with and, unlike with e-books, you can mark these up directly with notes and highlights. (Taking notes on Word documents is also supported, but only with the same sticky note-style format as e-books.)
Handwritten notebooks: The Kindle Scribe's Notebooks section lets you take freeform notes on 18 different paper templates, including lined paper, a daily planner, and a checklist. You can then view the notes inside the Kindle app on other devices or email them to yourself in PDF form.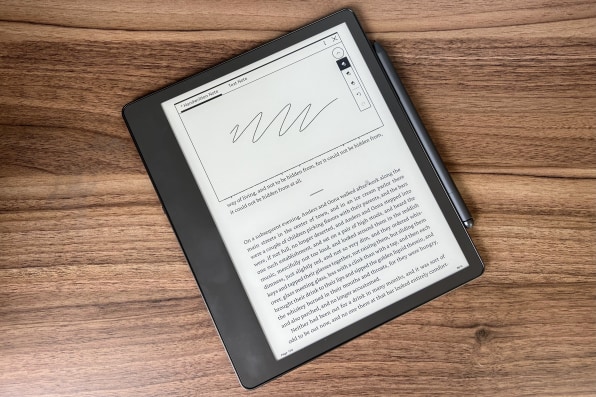 Again, handwriting on the Kindle Scribe feels great. The light amount of friction between the e-ink display and stylus provides a sensation similar to paper, and response time is instant for regular handwriting. (For fast, broad strokes across the screen, you'll notice a little bit of lag.) And compared with a regular tablet, battery life is far less of a concern. Over the last week, the Scribe has only dropped about 10% from the 60% charge at which it arrived, and the pen itself requires no charging or pairing.
WHAT'S MISSING
The Kindle Scribe's closest competitor is the Remarkable 2, an e-ink slate whose 10.3-inch screen is nearly the same size as the Scribe, albeit with a lower 226 ppi resolution. The Remarkable 2 costs $299, and its optional Marker pen adds another $79, or $129 for the Marker Plus with an eraser at the top. (Unlike the Kindle Scribe's Premium Pen, neither have a button on the side.)
Remarkable was kind enough to send a review unit for comparison, and while its hardware is inferior in some crucial ways, it's also a reminder of all the features the Kindle Scribe is missing.
Remarkable, for instance, offers lots of extra virtual drawing tools, including two pencil types, a ballpoint pen, and a text selection tool for moving blocks of handwriting around. The writing surface is pressure-sensitive as well, and it supports tilting the pen to shade in a wider area. Digital artists might even appreciate Remarkable's Photoshop-like "Layers" feature, which lets you draw separately on multiple canvases stacked on top of one another.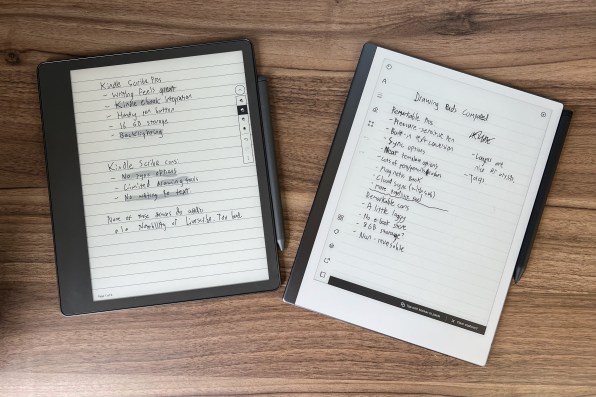 Remarkable's tablet is also much better at helping you move notes off-device. It has a built-in handwriting-to-text converter for mailing off entire pages of notes in print form, along with a "Share Screen" function that can display live notes through Remarkable's desktop app. An optional $3 per month subscription lets you sync notes to your choice of cloud storage services, which beats having to email them to yourself.
There's also one Remarkable hardware feature I really appreciated: You can snap the pen to the back of the tablet, not just the sides, which is helpful if you want to read a document while holding the tablet in both hands.
That said, Amazon's hardware beats Remarkable's in other ways: The Kindle Scribe's pen is slightly more responsive, the screen has a built-in front light for working in dark rooms, and it's reversible, so you can hold the lengthier grip section in either hand. Amazon's higher-end pen is also more useful thanks to its programmable side button, which I've used to erase without having to flip the whole pen around.
As a result, I found myself gravitating more toward the Kindle Scribe, but both companies still have a lot of work to do to achieve e-ink tablet perfection.
WHO'S IT FOR?
For Amazon, the bigger challenge may be convincing folks to use the Kindle Scribe in the first place.
Starting at $340, it's more than thrice the price of a Kindle e-reader, and I'd argue that its bigger, heavier screen is less comfortable for basic book reading. It's also $10 more expensive than an iPad—though the Apple Pencil adds another $99—which of course is much more versatile. Despite the Scribe's superior battery life and paper-like texture, I'd still rather use an iPad with Notability, as it allows me to record audio alongside my notes, and it can sync those notes to OneDrive with no hassles.
Another wrinkle to consider: Amazon has a long history of making splashy bets on new product categories, only to lose interest instead of iterating when they prove to be too niche. The Fire TV Recast DVR, Echo Look camera, and Glow video calling device for kids are all examples of products Amazon discontinued when they failed to take off, and there's a risk of that happening with the Kindle Scribe as well, especially amid big cuts to its devices group.
The Kindle Scribe is still an exciting change of pace for a company whose devices lean toward passive content consumption. Whether it's the start of a new direction for Amazon devices or just another experimental one-off remains to be seen.