According to LinkedIn data, recruiters are 50 percent more likely to search candidates by skills than by years of experience.
These days, employers and recruiters are equally, if not more, interested in a candidate's abilities than where they've worked or studied. For job seekers, that means it's more important than ever to properly market a skillset on LinkedIn, a place where more than 4,500 job applications are submitted every minute.
Sure, you studied accounting in college 10 years ago. But do you know the latest features in QuickBooks, and can you prove it? Perhaps you're a great communicator and team player, but do the descriptions of your jobs highlight it?
"[Employers] are more interested in, how much experience does this person have with these skills in this role?," says Catherine Fisher, the resident career expert at LinkedIn, which boasts 900 million members, including over 199 million in the U.S. alone. "We're seeing over 45 percent of recruiters and hiring managers today are looking for people based on those skills."
If you're looking for a position, or just open to offers, highlighting your skills on LinkedIn plays a critical role. (Here's how to add to the skills list on your profile.) According to LinkedIn data, recruiters are 50 percent more likely to search candidates by skills than by years of experience.
LinkedIn has several tools to help candidates, and nearly all of them are free. But they have quirks, overlaps, and gaps, plus a tendency to fall into disrepair. Here's how to utilize the platform's menagerie of skills-based resources, as well as some great outside tools.
IDENTIFY KEY COMPETENCIES WITH SKILLS MATCH
Start identifying key skills by searching for jobs that best fit what you do, or want to do. Click a heading called "Skills" near the top of a job listing to bring up the new, free Skills Match feature, which provides a roster of the top skills associated with the position. Do this for a few posts, and you'll get a good idea of what employers want.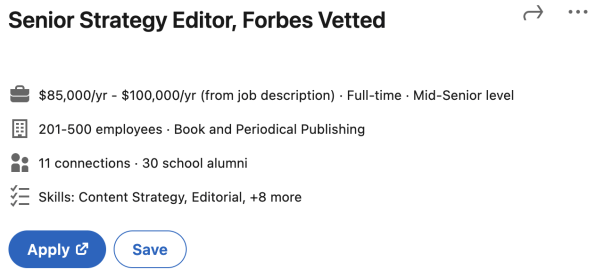 Click the "Add" button next to any skills you possess, which automatically adds them to your profile, but that's just a first step. "[Skills Match] just created a new low bar for table stakes skill sets," says Donna Svei, an executive résumé writer. "Thus, it will take more than matching those lists to stand out."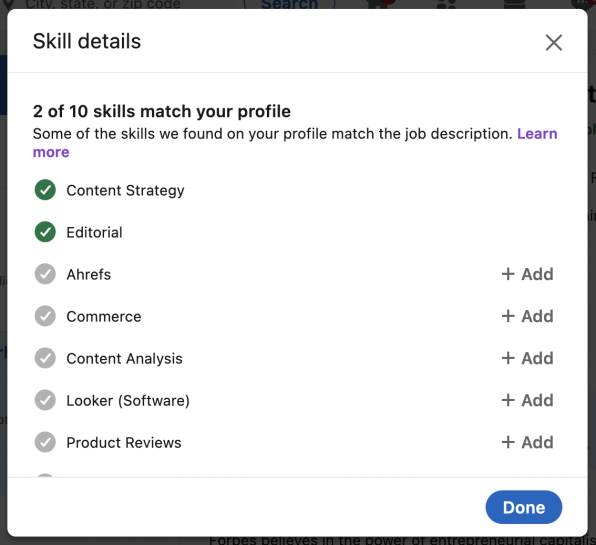 GET UP TO DATE WITH FUTURE OF SKILLS
To show how demands have changed for professions, LinkedIn created a tool called Future of Skills that tracks the evolution from 2015 to 2022. You don't need a LinkedIn account to access this tool, as it lives on GitHub, a software developer repository owned by LinkedIn's parent company Microsoft.
Within Future of Skills, you can filter by 34 countries, 20 industries, and hundreds of job titles. For instance, you'd see that about a fifth of the skills for marketing communications manager in the U.S. have changed in the past seven years, with six new items on the top ten roster. Such listings provide further insights on what new abilities you need to develop, or highlight, to stay competitive. (LinkedIn hasn't decided yet if it will continue to update the data in Future of Skills.)
SCOPE OUT NEW OPTIONS WITH CAREER EXPLORER
If you've tired of your current line of work, LinkedIn's Career Explorer (also free on GitHub) shows how you can segue to another industry, based on your existing skills. Career Explorer launched in November 2020, and LinkedIn has not updated it (and doesn't plan to). So it may not represent the latest in skills requirements, but it still helps in brainstorming a career change.
Enter your job title to see top skills for that role (at least, circa 2020). By default, the most-similar jobs appear first. To find ones that are further afield, switch the sort order to start with the least-similar options. You can also sort by the popularity of job types that people with your skill set move into. Less-popular options may reveal more roles that you hadn't considered. For each job type, you'll see the skills you have and the ones you should add.
GET A SECOND OPINION WITH AI
Nowadays, you'd be remiss if you didn't include AI in any research. "You could literally go to ChatGPT and just type in, 'What are the careers open to me?' And it'll spit out 10 things you would never have heard of," says Jeremy Schifeling, a former LinkedIn senior product marketing manager for education and coauthor of the book Linked: Conquer LinkedIn. Get Your Dream Job. Own Your Future. "You can imagine someone who's just graduated from college using this to find their way–way better than any tool LinkedIn has ever built."
However you develop your skills list, make sure to use LinkedIn terminology in your profile. "LinkedIn has doubled down on creating a standardized, global skills nomenclature," adds Svei, the résumé writer. Recruiters are likely to lean more on these terms in searching and evaluating candidates.
BUILD SKILLS WITH LINKEDIN LEARNING (AND OTHERS)
The LinkedIn Learning service has a massive store of classes to build the new skills you need. Completing them provides more credibility than simply keyword-packing your profile. Many courses are included with either a LinkedIn Learning subscription (starting at $19.99 per month, with the first month free) or with a LinkedIn Premium Career membership (starting at $29.99 per month). Some courses have additional fees on top of that.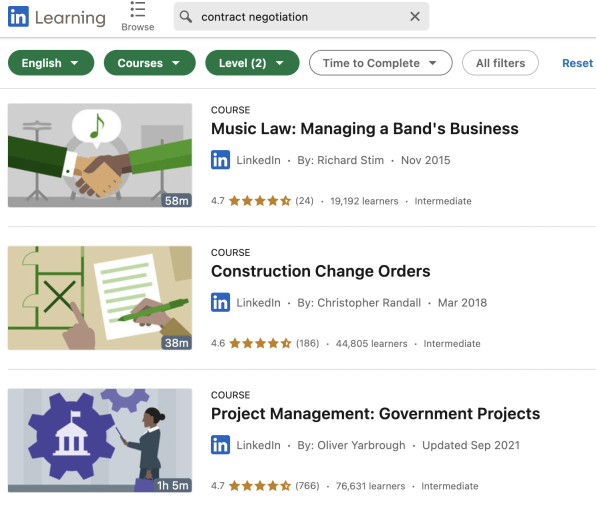 You can also check with your public library to see if it offers free access to LinkedIn Learning; many do.
But you may find better-suited courses, or better deals (including freebies), at other providers, such as Coursera, Udemy, edX, and Skillshare. Many companies also provide online (often free) training programs, such as HubSpot Academy, IBM Training, or Salesforce Trailhead.
With any provider, look for courses that furnish a badge or certificate attesting your knowledge. "It's these validated online credentials that are in specifically the skills that employers need, applied on a daily basis on the job, [that] can really provide valuable information about exactly the skill level of the person," says Julia Pollak, chief economist at online employment marketplace ZipRecruiter. (LinkedIn has a tool for adding licenses and certifications to your profile.)
ADD WEIGHT WITH JOB DESCRIPTIONS
You can further bolster your skills list by providing context. For each skill listed in your profile, click the pencil icon to the right and check all the positions you've held that involved those skills. Use this process as a guide to updating the descriptions you write for the jobs listed in the Experience section of your profile—and also apply that wording to the entries in the resumes you send to employers. (You can also ask your LinkedIn contacts to endorse your capabilities to further strengthen credibility, says Svei.)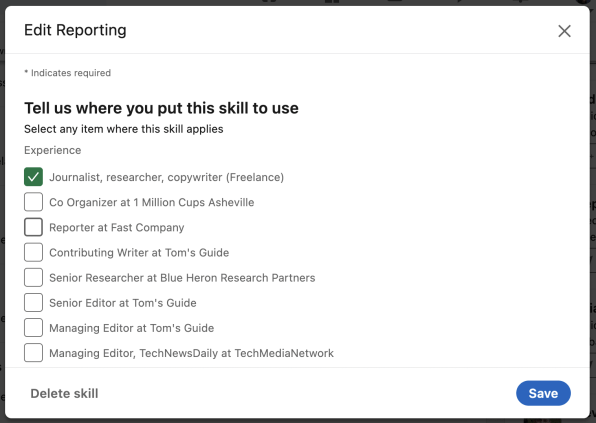 "[Employers] love it when candidates are not vague," says Pollak. "So if you say in your résumé [that] you used Excel to build revenue projection models . . . for whatever $20 billion company, that has much greater value to an employer than just listing Excel as one of the software tools you are proficient in."