Wait, when did Samsung phones get this good?
A strange thing happened while reviewing Samsung's Galaxy S23 Ultra: I really liked it.
This wasn't supposed to be. When people ask me which Android phone to buy, I usually steer them toward Google's Pixels, with their clean software, high-quality cameras, and timely software upgrades. Samsung phones have always felt, in a way, less elegant.
But with the Ultra, a lot of the software tics I used to loathe about Samsung phones have faded away, and the company's hardware has been polished to a high gloss. It also has some seriously impressive camera zoom features that rival phones have yet to match. While Samsung's most cutting-edge work is happening on the foldable side, the Galaxy S23 Ultra is regular old Android at its best.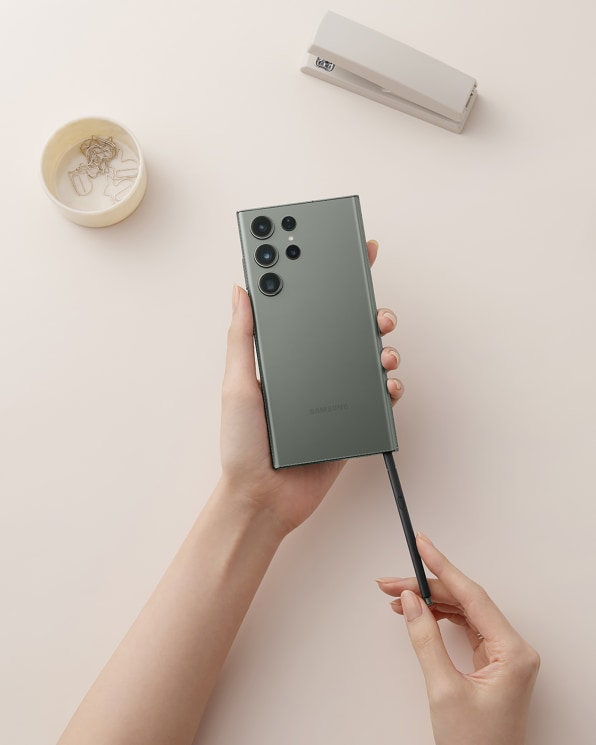 IT'S A LOOKER
Samsung sometimes gets dinged as a design copycat, but it's come up with a distinctive style for the Ultra, with curved glass on the sides and flat edges on top and bottom, giving it the look of a monolithic glass slab. It's similar to last year's Galaxy S22 Ultra, with one notable difference: The front glass isn't as curvy, so the included S Pen stylus is less inclined to slip off the edges while you write.
Around back, it has bucked the trend of ostentatious camera modules, instead mounting each of its lenses and sensors directly on the phone's frosted glass panel. For $1,200, the Ultra should feel like a top-of-the-line phone, and I appreciate that it does so without resembling an iPhone.
THROW ALL THE SPECS AT IT
Samsung didn't change a lot with the S23 Ultra's internals, but it also didn't have to. The 6.8-inch display is still among the biggest and brightest on the market, and the jumbo-sized 5,000 mAh battery was typically more than half full by the end of my day. You can look elsewhere for benchmarks, but I'd describe the improved Qualcomm Snapdragon 8 Gen 2 chip as plenty fast for pretty much any use case.
The most tangible upgrade is one that probably won't get enough attention: At 256 GB base storage, the Galaxy S23 doubles the capacity of both the iPhone 14 Pro and the Pixel 7 Pro. While Samsung's entry price is higher at $1,200, most users shouldn't need to pay more for extra storage.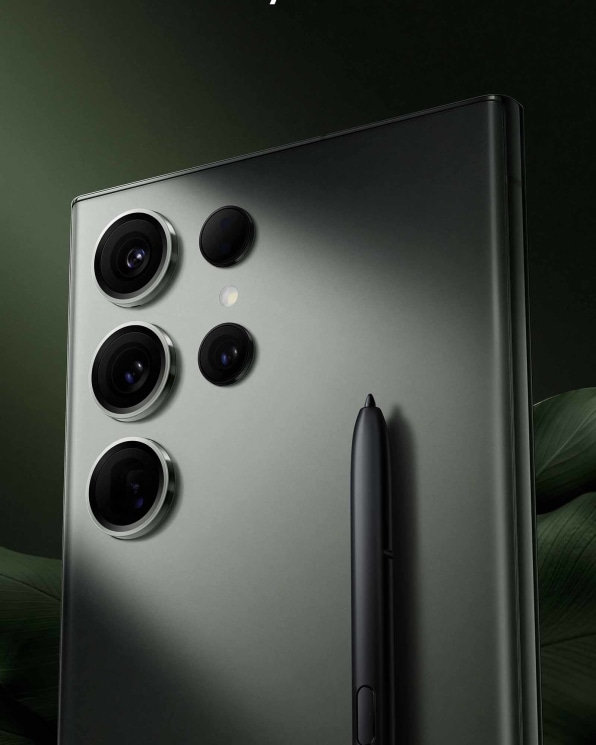 GREAT CAMERAS (WITH CAVEATS)
Let's get the bad out of the way first: Samsung's camera systems still aren't stellar with motion, particularly in low light. Side-by-side with my iPhone 13 Pro Max, the Ultra routinely produced blurrier photos of my kids while they were running or moving around. This is a longstanding and oft-overlooked issue with Samsung phones, and it persists even the company's best camera system.
Night mode photography is mildly disappointing. Even with the Ultra's new 200-megapixel camera and 16-pixel binning techniques that are supposed to improve lighting, Samsung's photos appear overly smooth and lacking in fine-grained detail next to Apple's and Google's flagships.
But all that suddenly seems forgivable when you zoom in.
The Galaxy S23 Ultra has four lenses with optical zoom levels at 0.6X, 1X, 3X, and 10X, and the latter is a major distinction from Apple's and Google's phones. During a ceremony at my daughter's school, I was able to get close-up photos and videos from my seat across the room while all the iPhone-toting parents had to settle for less detailed digital zoom instead.
Speaking of, the Galaxy S23 Ultra's own digital zoom is astounding. By combining that 10X lens with AI image analysis, the Ultra produces surprisingly crisp photos even at a 30X range, with much more detail than any iPhone or Pixel phone I've tried. (Technically, the phone supports 100X zoom, but at that range everything looks terrible.)
The Galaxy S23 Ultra excels at video as well. It supports up to 8K at 30 frames per second, but more importantly, it perfectly captured the mood at my 40th birthday party, where we'd set up string lights throughout the living room. The front camera's HDR video is a treat as well, as it eliminated the shadows that often fall across my face on other phones.
While the phone's camera has some issues with photos in tough lighting conditions, in other ways it's a more capable camera than what other flagship phones offer.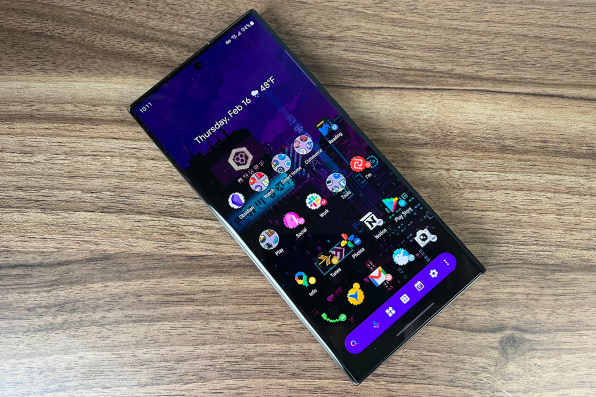 SOFTWARE: PRETTY GOOD!
Here's where the S23 Ultra really threw a curveball at me. In the past, I've described Samsung as the Las Vegas of smartphone makers for the way it overloads you with features to check out.
While many of those features haven't gone away, the interface just seems a lot calmer than it used to be. Bixby is largely de-emphasized (though it'll still activate by default if you hold the power button), gesture navigation mirrors that of Google's Pixel phones (and the iPhone), and notifications that promote new features were kept to a minimum.
Yes, some bloat still exists: I prefer Google's Gboard keyboard and stock apps for things like the Calendar and Clock, and had to spend a few minutes swapping those in for Samsung's versions. Samsung also has its own app store, which most folks should just ignore.
But if anything, Google's own Pixel phones have become more annoying, persistently nagging you to try a slew of AI-related features. And while Samsung takes longer to deliver new Android versions than Google, it promises four years of major Android upgrades—that's a year more than Google's Pixel line—plus five years of security patches.
I've also grown to enjoy some of Samsung's software flourishes, like the slide-out app tray that lets you quickly launch apps in pop-up or split-screen mode, and the Game Booster mode that hushes distractions while you're playing. Even Samsung's S Pen stylus, which I seldom use for handwriting, comes in handy for more precise gesture typing.
All this adds up to a phone that I really enjoyed using, to the point that I didn't miss my trusty iPhone 13 Pro Max. That hasn't been the case of late with Google's Pixel phones, which have just felt a step behind in hardware and software quality.
Of course, that doesn't mean the Galaxy S23 Ultra is for everyone. It's an expensive phone at $1,200 unlocked, and if you're an iPhone user, the pull of Apple's ecosystem is strong. It is, however, as good as an Android phone can get.