Google Sheets and Excel may still be waiting on their big AI upgrades, but you can bring all sorts of time-saving magic into your spreadsheets right now—if you know where to look.
Artificial intelligence is popping up practically everywhere you turn these days—except, it would seem, in the one place where it'd be most useful.
Call me a curmudgeon or an all-around crank, but I can't help but find all the hype around uninspired auto-writing and fabulism-prone chatbots to be a little underwhelming. And those seem to be the most common roles AI is taking on so far, as every app imaginable scrambles to squeeze some form of buzzworthy bot-based business into its offering.
Dealing with data, in contrast, is an area where AI could actually be transformative. In a spreadsheet, the value of creativity and a distinctly human touch tends to be minimal. Answers are generally black and white and objective. And figuring out formulas and formatting has never been much fun for most of us.
So imagine if you could skip all the migraine-inducing silliness and simply ask an AI assistant to organize your spreadsheet or create a calculation you require.
Google and Microsoft are still working on advanced new forms of AI integration in Sheets and Excel, respectively, with most of the native features vaguely set to appear in those products sometime "in the coming months"—including built-in tools for analysis and visualization in Excel and systems for organizing projects and classifying data in Sheets. But that's not stopping smaller startups from stepping up to the plate and bringing ambitious AI powers into spreadsheets today.
Here are three such services that'll make your life easier—no waiting required.
1. SPREADSHEET.COM
If you ever feel restricted by the conventional grid of a Google Sheets or Microsoft Excel spreadsheet, a service called Spreadsheet.com might be exactly the answer you didn't know you needed.
Spreadsheet.com aims to combine the familiar functions of a traditional spreadsheet with the more contemporary features of a project management service, such as Trello or Basecamp. It's kind of like Airtable on steroids—something that really comes across as the "spreadsheet of the future," as I put it when I profiled the company ahead of its launch back in 2019.
In keeping with that theme, Spreadsheet.com just rolled out a slew of fresh AI features that seem poised to change the way we interact with spreadsheets. And some of the abilities they enable are seriously futuristic.
"The ability to use natural language to clean your data, generate insights, create visualizations, and ultimately build models faster than ever before will make users more creative, efficient, and productive," says Matt Robinson, cofounder and CEO of Spreadsheet.com.
I had the chance to try out the service's new AI features just before their launch, and they work almost shockingly well and in genuinely useful ways. Among other things, Spreadsheet.com's new AI helper lets you design complex templates with a plain text prompt, create on-the-fly formulas simply by describing what you want, and track down mysterious formula errors so you don't have to waste precious moments playing bug detective. It can even research and pull in properly structured data to populate your database—with virtually any kind of info imaginable.
When testing this new version, I first asked the system to build me an employee vacation tracker for a small company. In a matter of seconds, Spreadsheet.com cobbled together a ready-to-roll database, complete with sample data to show how it works.

Next, I got a little more ambitious and asked the site to make me a database of every Google Pixel phone ever released—including when it launched, how much it cost, and what features made it stand out. The system not only created a sensible structure for the spreadsheet, but also retrieved and formatted relevant data from the web.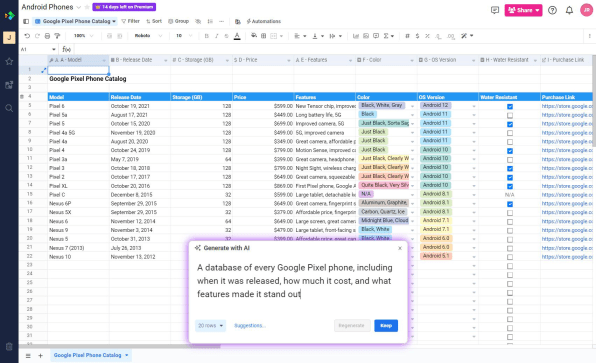 As you can see, this Pixel data wasn't perfect. It omitted the regular first-gen version of the phone, included several non-Pixel Google Nexus devices, and went only as far as 2021's Pixel 6 model. Still, the foundation it created was spot on, and the data it did manage to pull in provided a solid start that would have saved me a fair bit of time in doing that research.
And that, according to Robinson, is precisely the point.
"AI won't replace our use of spreadsheets. Rather, it will be there to assist us in performing all sorts of tasks we used to perform manually," he says.
Spreadsheet.com is free to use in its basic form, though that tier of service gives you only 10 AI uses per workspace total—a trial to see what you think. The service's paid plans start at $7 per user per month and include 100 AI uses per workspace per month at the standard level, 500 uses per workspace per month at the premium tier, and 1,000 uses per workspace per month in an enterprise arrangement.
2. GRID
If you're content with your current spreadsheet setup but want some added intelligence injected into that environment, a service called Grid is eager to win you over.
While Grid does have its own internal spreadsheet editor, it revolves more around the idea of connecting to other spreadsheet services—Sheets, Excel, even Notion or Airtable—and then enhancing your existing data with some smart visualization abilities.
And now, you can add a pinch of AI magic into the advantages Grid gives you. The service has recently added AI assistant, which allows you to type two slashes—//—into any cell to pull up an on-demand formula-and-data-graphic-creation genie. All you do is explain what you want to accomplish, and Grid cooks up the coding to make it happen.
"We provide natural language interfaces to simplify [users'] tasks and help them learn more advanced spreadsheet and visualization skills," says Hjalmar Gislason, founder and CEO of the Reykjavik, Iceland-based startup.
In addition to the standard-formula stuff, Grid's AI allows you to ask for something like a chart showing sales of certain products by region, based on a gigantic spreadsheet containing that data. And in addition to giving you a result, the system makes suggestions you can then use to fine-tune its output and get things exactly the way you want.
"This way, the AI serves both as a productivity boost and a learning tool," Gislason explains.
While Grid claims to be the first spreadsheet service to have offered built-in natural language formula assistance, its creators also realize these sorts of AI features will soon become table stakes for the category. And the company views AI not as the reason to use its software, but rather as an element that elevates its existing advantages and areas of distinction.
"I believe this is how most software vendors should look at AI: How can we use it to make our already differentiated software even better?" Gislason says.
Grid is free for basic use and $29 per user per month for a more fully featured plan.
3. EXCELBREW
Last but not least, if your spreadsheet needs are simple and you just want a helping hand with figuring out formulas for Excel or Sheets, a service called ExcelBrew is well worth your while to explore.
Unlike some unofficial AI plug-ins currently available for Sheets and Excel, which require configuration of API keys and other hurdles, ExcelBrew is its own stand-alone website that's as easy as can be to use. You just describe what you want to accomplish in either Sheets or Excel, click a big Generate button, and boom: The site spits out a custom-made formula that's ready to copy and paste into your spreadsheet of choice.

On the flipside, the system can also take an existing spreadsheet formula and break it down to explain exactly what it's meant to accomplish.
ExcelBrew's shelf life may be somewhat limited, given the similar-seeming features that Google and Microsoft are developing as we speak. But for the moment, it's a dead-simple way of bringing some of that same power into your life without having to wait on a tech giant or change anything about your work environment.
ExcelBrew is free for up to four requests a day, with some relatively unobtrusive ads sprinkled through the experience. The service also has a $7-a-month plan that provides you with up to 100 requests a day without any ads and with some extra-advanced script-generating capabilities added into the mix.
It's a delightfully practical way to embrace AI this minute—something even a certified curmudgeon and all-around crank can appreciate.