FIFA and video game publisher EA Sports broke up in May, spelling the end of their hit soccer-game collaboration. EA Sports, at least, will be fine.
With the World Cup in full swing, the FIFA video game series—which has an official World Cup mode that lets players relive (and rewrite) their favorite moments of the 2022 tournament—should be on top of the world. Yet it's the last time video game publisher EA and FIFA, the governing body of world soccer, will be working together after both sides went public with a very messy split in May.
The breakup means that EA's series will no longer be able to call itself FIFA—it will now be known as (the less catchy) EA Sports FC—and will lose access to global tournaments, following with the Women's World Cup in 2023. But it's FIFA that stands to lose the most from the parting.
For most of the past three decades, EA Sports and FIFA had a seemingly amicable relationship. EA paid an undisclosed fee to license the FIFA brand, and was able to sell its titles as something of the "official" soccer video game. With almost no effort on its own part, FIFA got to be associated with one of the most popular video game series on earth, one with some 150 million players.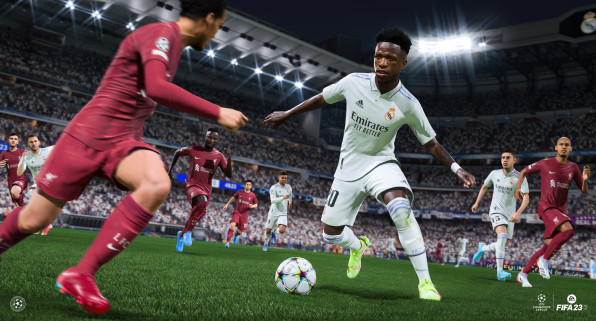 The relationship soured in 2021. No doubt aware of the profits being made by EA—the soccer series now generates hundreds of millions every year—FIFA asked for a reported one billion dollars to continue the deal, by all accounts an enormous increase over previous licenses. (EA declined to confirm the terms of the negotiation for Fast Company.) Instead, EA walked.
FIFA is so awash with money—watch the FIFA Uncovered documentary on Netflix for more on that—that a video game licensing deal is but a side hustle compared to its main business: staging (and taking sponsorship money for) World Cups. But that sponsorship money isn't spent in a vacuum. There are public relations considerations involved when companies offer their millions, and right now FIFA is damaged goods.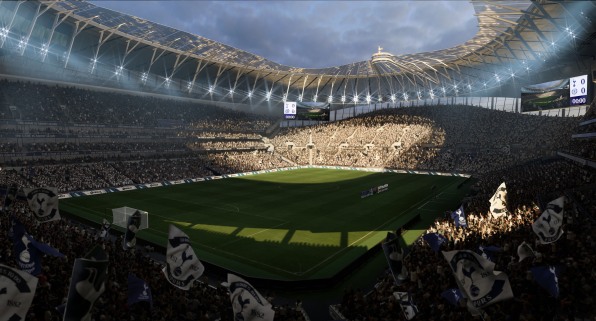 As a result, the relationship between FIFA and its financial lifeblood—a collection of major sponsors—is more strained than ever. Budweiser, for one, is reportedly looking for a $47 million discount on its sponsorship of the 2026 World Cup in North America.
This is where the video game deal comes in. Amid this run of bad press, the hit video game series has offered FIFA a rare opportunity to positively launder its brand to millions. That's now off the table.
EA, for its part, will be fine. Its development team and marketing muscle remains and it still has its myriad deals for everything from player likenesses to the lucrative English Premier League and Champions League competitions. All that is to say the only material change to EA games will be the name on the box.
From EA's perspective, there is actually more value in moving beyond the FIFA name than holding to it. Freed from the constraints of the FIFA listening deal, EA can explore new opportunities around things like broadcasting and introduce new partners to its audience of soccer fans. As David Jackson, VP brand for EA Sports FC, tells Fast Company: "The fundamental choice for us was the freedom to be able to operate in a way that we know our players and our fans are looking for, or hold on to a naming convention that was very valuable, but maybe in the future less so."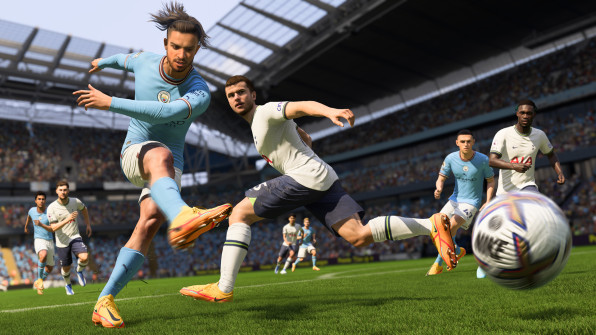 FIFA, on the other hand, appears to be scrambling. Since news of the split with EA emerged, the organization has lent its name to a number of embarrassing blockchain-based games. FIFA president Gianni Infantino has boasted that "the only authentic, real game that has the FIFA name will be the best one available for gamers and football fans," signaling the organization's intention to create a rival soccer simulation game. But his confidence is at odds with the reality of video game development.
The scale and complexity involved in creating modern, blockbuster sports video games is immense, so much so that only a handful of developers around the world are capable of it. And FIFA just alienated one of them. The others are currently busy making their own games, and if FIFA wanted to bankroll the establishment of a new studio, it could be years before it would be in a position to release a game to EA's standards. Even so, Infantino insists that a rival could be up and running by 2024. "Nothing is impossible," says EA's Jackson. "But it's not that easy."
This whole mess is one that FIFA could have avoided had it not so grossly overestimated its importance to EA and to the wider video-game market. You could argue that this is a mistake that FIFA will live to regret. For an organization as seemingly bereft of self-awareness as FIFA, that would be a first.