The Las Vegas event is becoming as much a showcase for sustainable tech as it is a gadget gathering. Here's some of what we saw this year.
But while the 2023 edition of CES had its usual share of wasteful tech applications and cloying corporate greenwashing, it also revealed serious movement toward cleaner ways to get around and keeping buildings warm and well lit.
ELECTRIFY THE UNUSUAL THINGS
First, CES became a car show as well as a gadget gathering, and now this annual event produced by the Arlington, Virginia, Consumer Technology Association has become such an electric-car show that EV laggard Stellantis used a keynote to attest that it, too, had Gotten The Memo.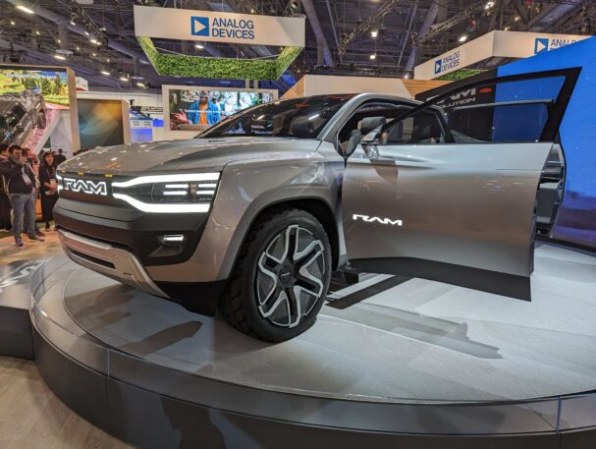 "We are all-in," CEO Carlos Tavares said before introducing concept battery-electric versions of the Dodge Charger sedan and Ram pickup that would take the place of vehicles that, today, don't even feature hybrid powertrains.
Tavares sounded less vaporous when outlining Stellantis's plans for five "gigafactories" for EV batteries, including one in Kokomo, Indiana, to be built with Samsung. Panasonic touted similar news at CES, highlighting the November groundbreaking of a new battery plant in DeSoto, Kansas.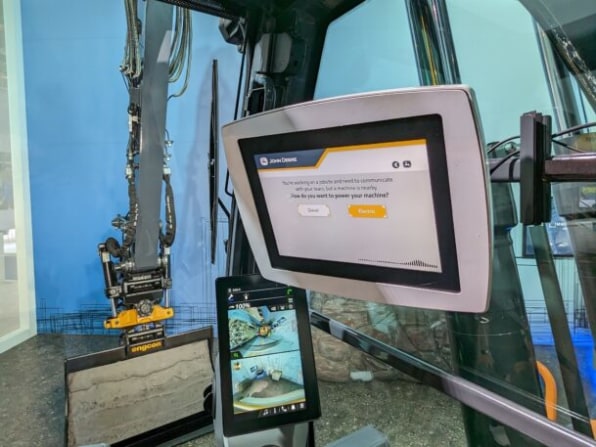 But cars and trucks aren't the only vehicles in need of electrification. A corner of John Deere's CES exhibit revealed another piece of that puzzle: its new 145 X-Tier electric excavator. This tracked vehicle can run about eight hours between charges and offers an immediate upgrade to the person operating it: much quieter operation.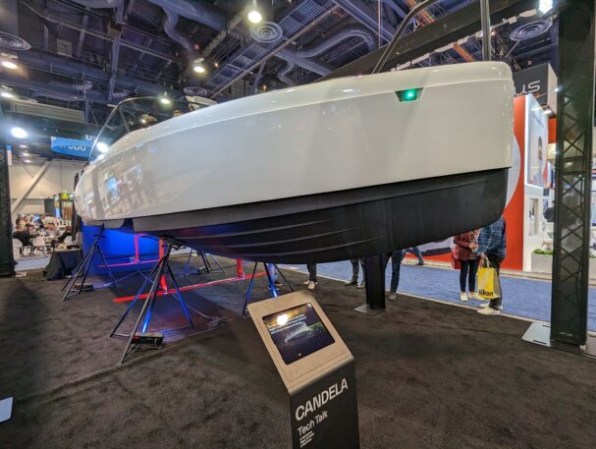 A separate exhibit, from the Swiss startup Candela's line of battery-powered hydrofoils, suggested one-way electricity and water can safely coexist. It starts with a sporty leisure vessel that you could imagine George Clooney enjoying on Lake Como but also includes 12- and 30-passenger ferries.
WHOLE-HOME ENERGY SMARTS
As electrification advances through homes, replacing gas stoves with cleaner induction cooktops and allowing for such possibilities as using your electric car to power your house temporarily, the core wiring components will need their own upgrades.
(The Inflation Reduction Act's tax credits provide support for these upgrades as well as incentives for those battery plants.)
Schneider Electric, a longstanding French manufacturer of electric gear, introduced a high-tech successor to the traditional house electrical panel at CES. Its Schneider Home system starts with a smart app-controllable electric panel ($2,000 and up) that can track energy use across the house; from there, it can be expanded with such add-ons as connected outlets and a whole-home battery backup.
Samsung, in turn, spent much of its keynote talking about how its SmartThings home-automation system can also serve energy-monitoring purposes by collecting and analyzing power-usage data. That feature recently won SmartThings the first certification under the Environmental Protection Agency (EPA)'s new Smart Home Energy Management Systems program.
EPA Energy Star program manager James Kwon showed up on stage to commend Samsung for its work—an unusual quasi-endorsement by a government figure, as well as evidence of the importance the Biden administration places on sustainability.
ENERGY-INTENSIVE 8K TV'S APPEAL DIMS
The keynotes of Samsung and other large electronics firms have traditionally focused on TVs—and in recent years, much of that stage time has been spent promoting giant sets with 8K resolution. But not only is there nothing meaningful to watch in that ultra-high resolution (which people generally can't discern from typical viewing distances), these sets are epic energy hogs.
COUNTERPOINT: LAS VEGAS ITSELF
But at the end of each day, the scenery outside the CES exhibit areas in the Las Vegas Convention Center (LVCC) and the Venetian Expo offered a congested, polluted reality check.
The Strip is a monument to automotive supremacy, forcing pedestrians to cross most intersections on bridges and leaving buses stuck in the same traffic as smaller vehicles carrying far fewer people. A casino-funded monorail does connect the back doors of some properties on the east side of the Strip to the LVCC, but it skips past the Venetian and doesn't reach Harry Reid International Airport—leaving that facility with some of the worst public-transportation options of any major American airport.
And yet, on a flight west, you can't miss one last sign of progress: a series of solar-power facilities sprawling along desert valley floors that make plain the rise of renewable energy across Nevada.
Sponsored Content
FROM OUR PARTNERS