After building a business around revisions for writers, Grammarly jumps into generating text wholesale with AI.
With help from generative AI, Grammarly is getting ready to move beyond its prose-editing roots.
Next month, the company will launch GrammarlyGo, an AI assistant that lets users create text from scratch through simple prompts, similar to ChatGPT. The tool can also summarize emails and offer one-click responses, and it can rewrite entire paragraphs to be more concise, personable, or professional.
It's big expansion in scope for Grammarly, which until now has functioned as a tool for revising what people have already written. With GrammarlyGo, users won't have to write much of anything at all.
"We deeply believe that AI is there to help users gain superpowers, and that's what we want our product to do," says Rahul Roy-Chowdhury, Grammarly's global head of product.
AI WHEREVER YOU WRITE
Grammarly's underlying AI isn't much different from what's already available in other generative AI tools. Roy-Chowdhury says it's based on GPT-3, but with some additional classifiers to avoid generating or interacting with harmful text. (ChatGPT is based on GPT-3.5, a slightly more advanced model.)
So compared to tools like ChatGPT, the main difference with GrammarlyGo is where it's available. AI features will be built into Grammarly's existing desktop apps and browser extensions, so it can function inside of practically any text field. That universal presence might give Grammarly an edge against the likes of Microsoft, which has already integrated ChatGPT with Bing and reportedly plans to bring it to Office apps, such as Word and Outlook.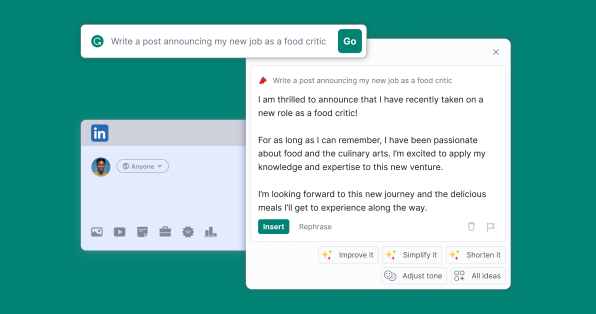 "We are everywhere that people write, and GrammarlyGo's going to show up in all of those places, not just one app or one use case," Roy-Chowdhury says.
Roy-Chowdhury also stresses Grammarly's ability to personalize what it puts out. While reading an email, for instance, users can click the Grammarly button to get a summary along with suggested responses, and those responses will incorporate information from the email, such as the sender's name and their suggested meeting time. Meanwhile, a "My Voice" button will let users decide what kind of tone their text should have.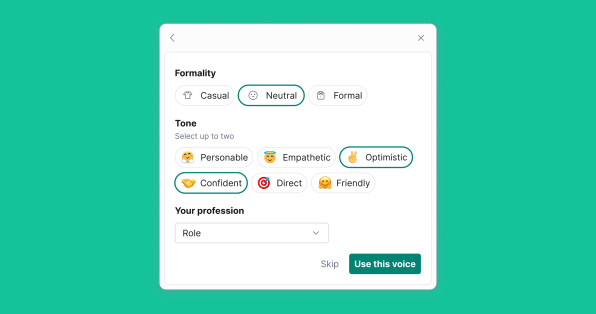 "It could be that you want to be witty in this context, but not in others, but it could be that wittiness is just part of your personal brand, so that's your thing," Roy-Chowdhury says. "We enable you to have those controls in place."
Grammarly hasn't yet announced pricing for GrammarlyGo, but some version of it will be available in the company's free edition, along with its premium, business, education, and developer products. For individual users, it'll be turned on by default.
BEYOND REVISIONS
While Grammarly may be riding the wave of hype around ChatGPT and other generative AI tools, Roy-Chowdhury says the company has long aspired to play more than just an editing role in users' writing. He points to a study the company released with Harris Poll Research, in which managers estimated that teams squander more than seven hours of work every week on poor communications, and says solving those problems have been part of Grammarly's long-term strategy.
Advancements in large language models (LLM)—such as those used by ChatGPT—were the impetus Grammarly needed to expand to all aspects of communication.
"We've always believed that our mission will inevitably bring us into solving communication flows across the entire lifecycle of these journeys our users have," Roy-Chowdhury says. "When we see advancements in LLM technology that enable us to do this at scale for our users, we're all over it."
On some level, GrammarlyGo is also just an expansion of the company's existing embrace of AI. Roy-Chowdhury points out what when Grammarly got started, it was strictly a rules-based natural language processing system for correcting grammar. Over time, it has used deep learning to offer additional features, such as tone correction.
"If you look at Grammarly's history, we have always looked at new technical innovation to help us bring new value to users," he says.
ROOM FOR THE HUMAN?
Still, Grammarly's foray into generative AI introduces its share of challenges. In the past, the company has marketed itself aggressively toward students as a way to clean up their essays—you've probably seen the YouTube ads—but with AI writing tools, Grammarly will just make it easier to avoid writing in the first place.
Asked for its stance on this possibility, a Grammarly representative merely pointed to the ways generative AI may be useful—for instance, as a brainstorming tool—and noted that Grammarly for Education admins can turn off GrammarlyGo for their students. The company declined to answer whether GrammarlyGo had any protections against plagiarism, which has been a problem for AI-generated output in the past.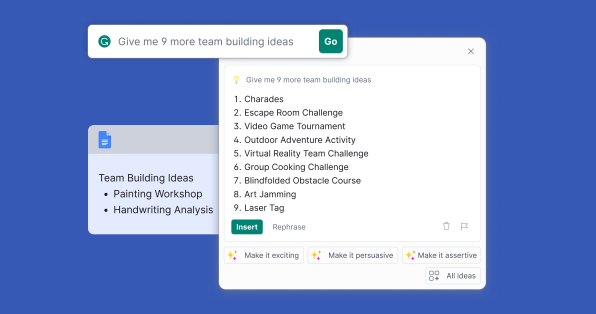 There's also the less tangible matter of preserving the humanity in writing. In the past, Grammarly users have praised the product for its light touch, which suggests edits to existing text but lets users dismiss them to preserve their personal voice.
That may be harder to do when AI is generating reams of text on its own. While Grammarly says it wants to build a platform that can write content to match a user's own style, at present its personalization skills are much more limited. (For instance, it can recognize whether you're writing an email or an essay, and adjust its output accordingly, or incorporate names when generating an email.)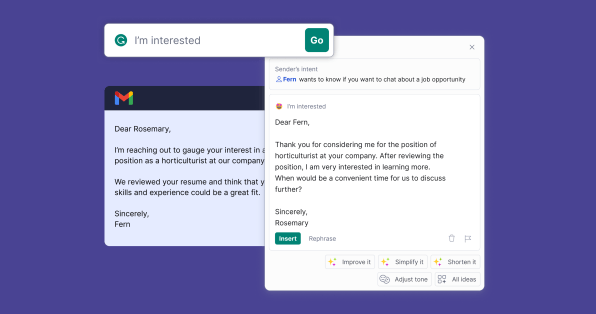 Roy-Chowdhury says that ultimately users are in control of how much generative AI they want to use, and they're always free to modify whatever GrammarlyGo puts out.
"We're all about augmenting the capabilities of our users, not replacing them," he says.
Putting those same generative AI tools into virtually any text field might convince those users to stick around, regardless of whether the output looks a little less human.