The Airstrait promises to reduce styling time and hair damage. Those conveniences might well be worth its enormous price tag.
Drying my thick, wavy hair takes 45 minutes. First, I use a hairdryer, then I go through every strand with a flat iron. The end result is sleek, but all that heat weakens my hair, as evidenced by my split ends.
Dyson sees my pain. Today, the British company adds a new tool to its arsenal of successful haircare products, which includes a powerful hairdryer, a multistyling device, and a straightening iron.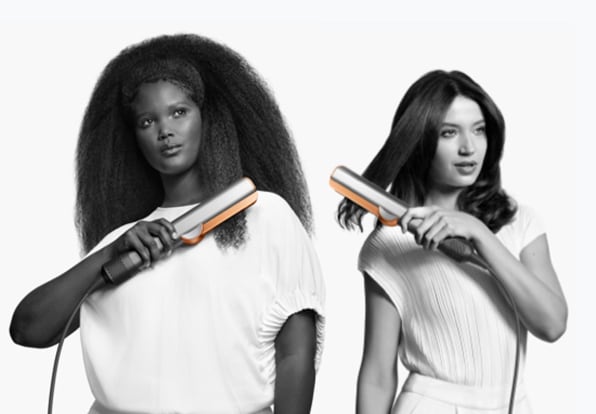 The Dyson Airstrait, which launches on the brand's website and in retail stores, is designed to straighten wet hair with warm air, rather than a heat plates. According to the brand, this will speed up the styling process while also cutting down on the amount of heat needed, thereby reducing hair damage. (We haven't had a chance to test the product, so we can't verify these claims.)
James Dyson founded the company in 1991, launching a powerful new vacuum cleaner. But over the years, the brand has expanded into many new categories. A decade ago, it decided to enter the haircare space, investing over half a billion dollars into hair research and product development at its Hair Lab. In 2016, it launched a high performance hairdryer that became a hit among industry professionals and consumers alike.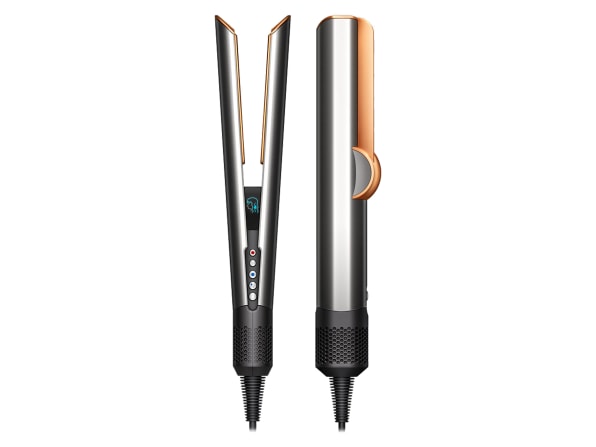 Kate Craft, a Dyson reliability engineer, says the company decided to build the Hairstrait when it discovered, through a global survey, that sixty percent of consumers opted for a straight style, either as their final look, or before incorporating other elements, like curls. But consumers also felt like drying then straightening hair took too long and caused too much hair damage. This inspired the company's engineers to figure out how to dry and straighten hair simultaneously, ideally with less heat. "Everybody is looking forward to shaving 15 minutes off their styling routine," says Craft. "That's what they're most looking for us to achieve."
The Airstrait builds on the Corrale, a flat iron that Dyson released in 2020. That tool was much more like a traditional straightener, using hot plates to straighten and smooth hair. The brand claimed to be able to touch more of the hair surface area with the Corrale, compared to competing products, which allowed the company to reduce the amount of heat required to straighten hair.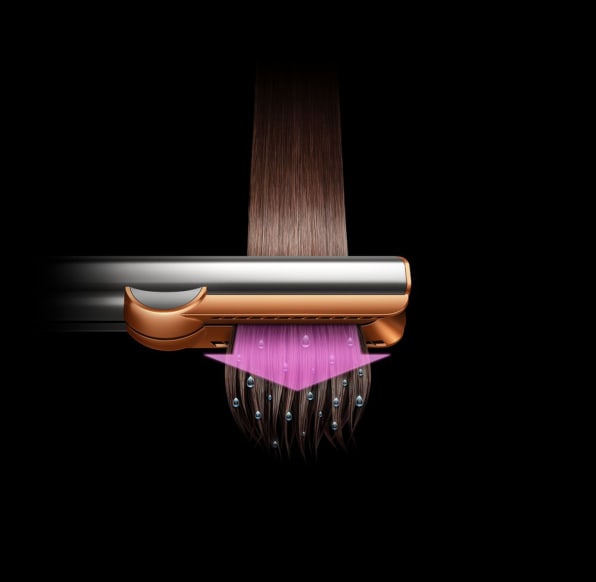 Craft says this new product used a completely different technology. It has two arms that are precisely angled to deliver high-pressure and highly focused airflow that dries the hair while applying downward tension to it, causing the hair to straighten. "This combines elements of all of our previous haircare products into a single machine," says Craft.
While it is designed to simultaneously dry and straighten wet hair, it can also be used on dry hair. But this requires slightly higher heat. You can switch the device to either "wet" or "dry" mode, and also pick from several heat settings in each. (The company recommends always trying at the lowest heat setting first, since this will lead to less damage.) "When your hair is wet, the molecular bonds in your hair are more pliable, so we can style hair at a lower temperature," says Craft. "In a dry state, you need a higher temperature to have enough energy to break those bonds and reset them."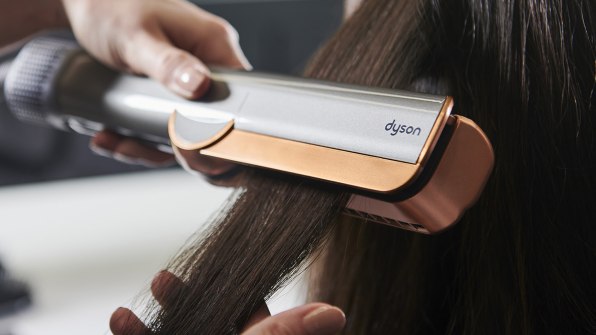 Like all of Dyson's haircare products, this one is powered by an intense motor that spins at 106,000 revolutions per minutes, which Craft says is about seven times faster than a Formula One engine. It also has an internal sensor that controls the heat, measuring the temperature of the airflow 30 times per second to continually regulate the temperature.
This kind of precision and power comes at a cost. The Airstrait retails for $499.99, which is in line with the brand's other expensive hairstyling tools. This product will appeal to professionals, and for the rest of us, it will be a luxury. But provided it works as advertised, it might seem like a reasonable price to pay for those of us who spend hours a month wrangling our unruly hair.
Sponsored Content
FROM OUR PARTNERS